 ANDRES ALFONSO TORRES COZAR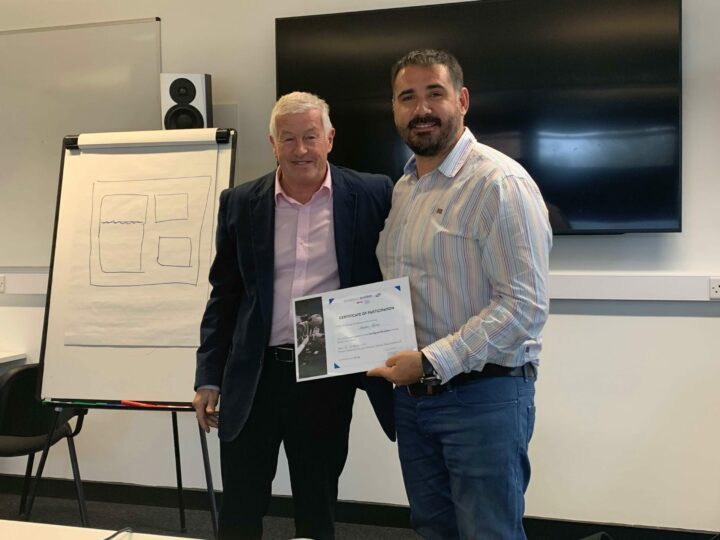 "This is the job that matches my skills the most and gives me thrills at the same time. It is what I want to do in my career."
With over twenty years of experience working in the TV industry, Andres considers himself lucky that his passion is also his profession. Now, his passion will take him to Tokyo to work on the Olympic Games.
Spending most of his working life in Spain and Qatar, Andres' focus has always been on live TV coverage of sporting events. Since 2007, Andres has been working mostly as an Assistant TV Director, as well as TV Director and an EVS Operator for the Al Kass Sports Channels in Qatar.
After attending the Live Sports Direction course with Broadcast Academy at NFTS in 2019, more directing roles came his way, such as the Association of National Olympic Committees (ANOC) World Beach Games Qatar 2019, where he was the director for two competitions, Beach Karate and Beach Wrestling for Al Kass, the broadcaster of the event for the Olympic Channel.
He was the TV Director for one of the events at the 2019 Asian Shooting Championship – a qualifying tournament for the Tokyo 2020 Olympics Games, but, as for many professionals, the Covid-19 pandemic stepped in to take his progression on a detour. Scheduled to be involved at the Tokyo 2020 Olympics Games and Paralympics with OBS, coordinating work in the department of Graphics, Data and Timing, that mission had to be delayed and will now finally happen in the summer of 2021. "It will be my first Olympics Games and I hope to learn as much as possible from this experience," Andres explains.
As an EVS Operator, he has worked at the FIFA Club World Cup Qatar 2019™, and the FIFA Club World Cup Qatar 2020™ – held in early 2021 due to the Covid-19 pandemic. He has also worked on the AFC Champions League 2020, 2021 FIVB Beach Volleyball World and the 2021 Global Champions Tour show jumping series.
His journey so far allowed him to learn under some of the leading sports TV Directors, such as Grant Philips, François Lanaud, Jean-Charles Vankerkoven, Dave Horridge, Bruno Hullin, Vincent Bunel, Andre Pedro and Popi Bonnici, to name a few. Working with such experienced peers inspired Andres, and deciding to pursue further his long-term career goal of a full-time role as a TV Director, he enrolled in the Live Sports Direction course with the Broadcast Academy. "This is the job that matches my skills the most and gives me thrills at the same time. It is what I want to do in my career."
Discover Our Courses
The Broadcast Academy activities are conducted in various forms. Training is delivered in the form of masterclasses, seminar and workshops. Our services include consultancy for sports broadcasters to help them achieve their goals of hosting and broadcasting international standard sporting events.