 Aenor Wahl
Success Story at HBS for Broadcast Academy Alumna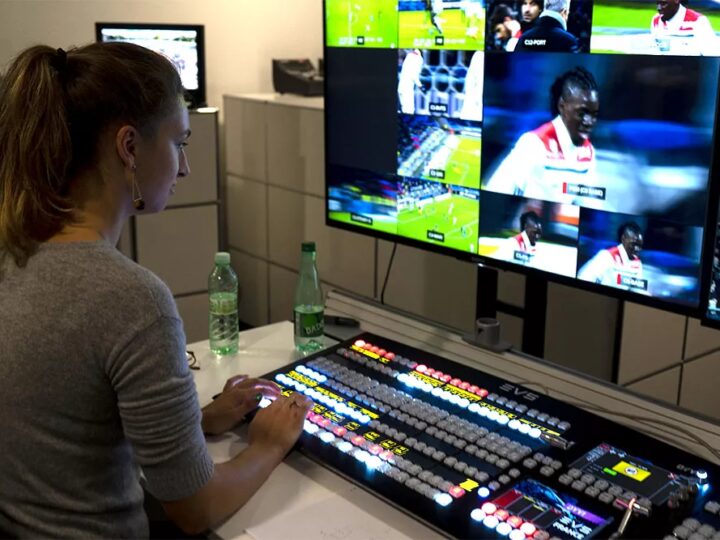 "There is a real mentorship spirit at work at the Broadcast Academy, truly, and I never felt like I was just a passing trainee. The team follows up and make sure they provide a network for the students when they start their career."
When Aenor Wahl stepped into the Broadcast Academy training in September 2017 at the International Broadcast Conference (IBC) in Amsterdam, little did she know that her professional life was about to take an unexpected turn.
Born in northern France in 1995, Aenor has always been passionate about understanding what goes on behind-the-scenes of broadcast operations. "I completed a Master's Degree in TV/Movie production, and the first time I stepped into an OB van and I experienced the feverish atmosphere that is in the air a few minutes before everything goes live, I knew it was the right path for me," she explained.
Through her university, she attended the IBC Amsterdam in 2017 and, there, she saw an advertisement for a Broadcast Academy Live Direction session, as part of the "Training Tomorrow's Stars" initiative: "I was quite intimidated because it was my first time in a professional environment, and I wasn't too confident in my English, but I just thought, I have to go for it!" she recalled.
The Broadcast Academy module gave Aenor the opportunity to try her hand at a practical approach, something she hadn't had the chance to experience while at university. Reading about the technical specifications of a camera never compares to handling it, nor does it prepare you for the hazards of a live situation, according to Aenor, so having the possibility to train on practical tools was priceless.
Following her IBC experience, Aenor completed several internships, but HBS was never far from her mind, and after applying for a job, in September 2018, she was offered a position as Production Assistant with the company. "The thing that sets the Broadcast Academy and HBS apart for me is the focus on quality and detail. The mindset when working on a project is: what is the story and how are we going to tell it? I think it's this editorial direction that makes all the difference," she enthused.
But it's also the commitment of HBS and the Broadcast Academy to fostering young talents that sets this experience apart for Aenor. With several initiatives undertaken to encourage aspiring broadcast professionals, both companies make it their mission to share the knowledge accumulated during their 20 plus years of experience.
"There is a real mentorship spirit at work at the Broadcast Academy, truly, and I never felt like I was just a passing trainee. The team follows up and make sure they provide a network for the students when they start their career. It really was a life-changer for me, and now, thanks to them, here are I am, covering some of the biggest sports events in the world for HBS, working alongside industry legends like John Watts," said Aenor.
With younger generations fully integrated at HBS, Aenor is now working towards her goal of becoming a sports director, honing the operational skills she credits the Broadcast Academy for helping her acquire. The future is looking bright for this ambitious young professional.
Discover Our Courses
The Broadcast Academy activities are conducted in various forms. Training is delivered in the form of masterclasses, seminar and workshops. Our services include consultancy for sports broadcasters to help them achieve their goals of hosting and broadcasting international standard sporting events.