 FROM THE PITCH TO THE GALLERY
Sigrid Lelièvre
Live Sports Direction Course, France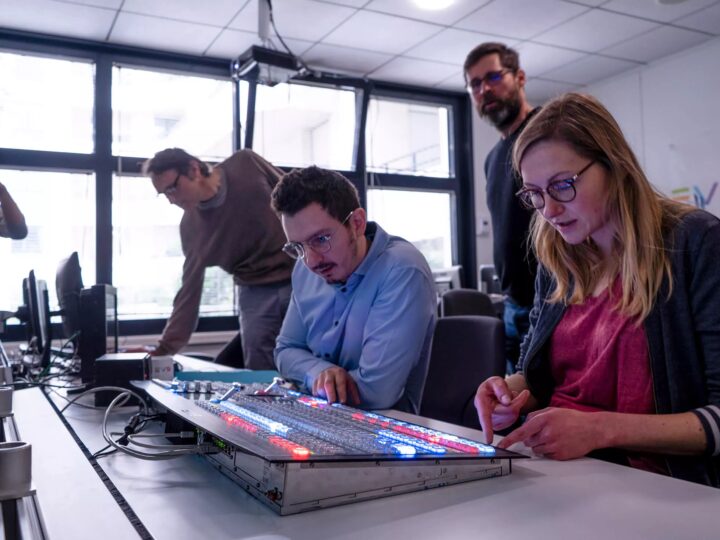 "In every way, this training exceeded my expectations."
Sigrid's love for handball pulled her towards a career in sports broadcasting. A player herself, she is now also directing the sport, with her most recent accomplishment being to direct the Brest Bretagne vs Ramnicu Valcea match during the 2020 DELO EHF Champions League.
Having worked in the broadcast industry since 2013, she has advanced her role to directing football and handball. In 2019, she was involved in the coverage of qualifying matches for the 2021 Africa Cup of Nations, Basketball Champion's League for FIBA, handball's Starligue matches in France, as well as working on the FIFA Women's World Cup France 2019™.
A participant in the Live Direction Course hosted by the Broadcast Academy in February 2020 in France, it was during the training session that she was noticed and scouted to direct for the EHF Champions League event.
"When I met Sigrid at the Broadcast Academy module, I could already see her attention to detail and I was impressed by her calm demeanour and quick-wittedness, which are the qualities you're looking for in someone working in the fast-paced environment of live production. It's probably rather unusual to let a newcomer direct games of a national competition scale, but we could see her potential and it's especially rewarding to be able to help a young, local talent progress in the industry", explained Birgit Schiller, Senior Production Manager at Infront Productions, the host broadcaster of the DELO EHF Champions League.
Sigrid wants to direct more, and one day would like to manage production teams or start something of her own. She believes in the life-long process of learning and has recently been admitted into the prestigious Sorbonne University in Paris to pursue an MBA in Global Management. However, she will continue her studies alongside her professional commitments.
If you ask her about the importance of upskilling for professionals like her, she says it is vital. "It was time for me to go to the next step, and participating in the Broadcast Academy's Live Sports Direction Course was the greatest way to do so. I would like to add that, as a woman, getting to work in both sports and TV broadcast is a personal challenge." Her 'mantra' is to always keep different opportunities in your pocket, you never know what you may need in the future.
Despite challenging times due to the Covid-19 outbreak, her hands are full with multiple projects, and she considers herself lucky for all these opportunities coming her way.
Women's Initiative Project Access
Tackling the Underrepresentation of Women in the Sports Industry