 BROADCAST ACADEMY SESSIONS AT THE IBC 2019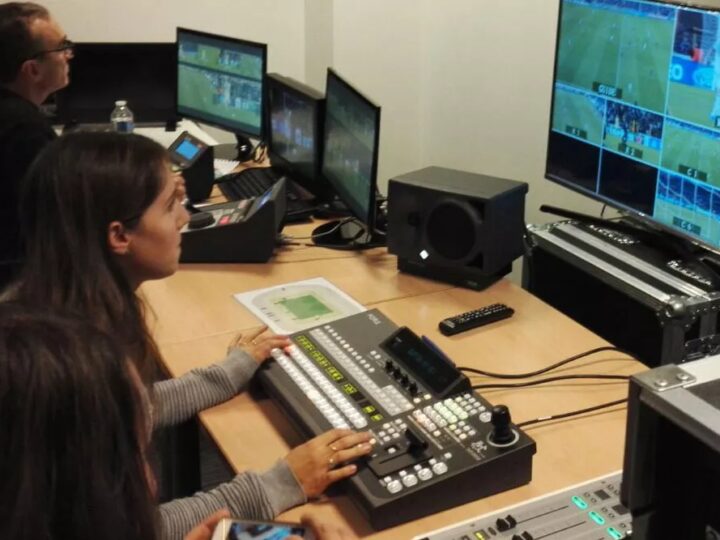 The Broadcast Academy is excited to announce its presence at the upcoming International Broadcast Convention (IBC) 2019 in Amsterdam.
The Academy is the proud partner of IBC, and together they promote training and build expertise of the broadcasting professionals around the world.
Broadcast Academy in partnership with EVS is pleased to invite you to the Broadcast Academy sessions from 15-16 September 2019 in IBC Amsterdam, Netherlands. There will be a series of stimulating panel sessions and Live sports direction training with the live TV simulator:
Day 1: 15 September 2019 – Three Panel Sessions
10:30-12:00: Remote Production in Live Sports                                                                       
This session would capture the stimulating discussion around remote production — its impact on live production, accessing the cloud infrastructure, the possibility of richer content creation, and challenges in implementing it in every production.
The panel will be moderated by Dieter Backx from EVS, and consist of Adde Granberg, CTO of Swedish Television (SVT), responsible for managing the Remote TV Production for the London 2012 Summer Olympic Games and the Brazil 2014 FIFA World CupTM; Nadeem Ahmed, Director at Asia-Pacific Broadcasting Union (ABU) Technology & Innovation; Nicolas Deal, CTO of Orange Sports and Media, who designed the broadcast network for worldwide events like FIFA World CupTM, Olympic Games, and UEFA; and Stefan Wistuba, the Director of Production at HBS.
14:00-15:30: Digital Transformation and Social Media in Sports Production                 
Social media has brought significant changes in how sports broadcasting has been traditionally perceived. Whether we talk about live streaming, amplifying fan engagement, or finding ways to monetise 'free to air content', this is a potential topic of discussion and debate amongst the broadcasters.
Ryan Jespersen from Dazzl will serve as the moderator for the panel, which will include Melissa Lawton, who is redefining the live sports viewing experience at Facebook, and Mark Parkman, General Manager of Olympic Channel and an Emmy winner for Salt Lake 2002 Olympic Winter Games.
16:00-17:30: Creating Memorable Sports Moments on TV: Preparation or Luck? 
Whether this is the moment when Uruguay's Luis Suarez bit Giorgio Chiellini in the Brazil 2014 FIFA World CupTM or when the Spaniard Andries Iniesta scoring the goal in the dying minutes to win his country's maiden title, this session will give you a chance to hear how these moments were created for television by the people who made the key match coverage choices live during the game.
Ken Kerschbaumer, from SVG, will moderate the panel. Joining the panel, Oscar Sanchez, the Director of Broadcast Operations/Executive Producer at CONCACAF; John Watts, Broadcast Academy Expert and the Director associated with  every FIFA World CupTM since 2002; and Henk van Meerkerk, Head of Production at Fox Sports.
For more in-depth programme details and information on the panel sessions, please click here.
Day 2: 16 September 2019 – Live Sports Directing with a Live TV Simulator
10:00-12:00: Encouraging Women in Sports Production and Directing                                         
The Broadcast Academy and IBC have prepared a special training session for women willing to develop their talent and offer the chance to take on challenges of the top-level roles in sports broadcasting.
HBS will offer a prize to a selected woman participant attending this session that will include all-inclusive 'shadowing opportunity' at a major sports event in Paris.
13:00-15:30: Train Tomorrow's Stars                                                                                        
The Broadcast Academy and EVS are hosting beginner's training sessions for all newcomers to the sports broadcast industry.
At the end of the session, IBC will give away a prize to encourage young graduates to develop their talents to become future sports-broadcasting professionals.
The prize will be the opportunity to shadow a production gallery operator for the day at the Eurosport HQ in Paris (including flights and hotel costs, which IBC will organise*).
* = Conditions Apply. Must be over 18 and have prior knowledge of the broadcast industry., i.e. pursuing broadcast-related studies/course.
16:00-17:30: Lean Production Using Software-Defined Technologies       
The Broadcast Academy and EVS are hosting this session for all those who would be interested in knowing more about how simplified production is used in live sports broadcast industry. Selected participants will be given a chance to try their hands on the new X-One simulator.
EVS will offer a prize to a selected participant attending this session that will include LSM operational training (basic replay operator) as well as training on X-One simulator at its headquarters in Belgium.
For more information, about the training sessions, please click here.
Limited space is available in the venue – G107, near Hall 13, so book now by clicking here.