 BROADCAST ACADEMY AND EVS RECOMMIT THEIR PARTNERSHIP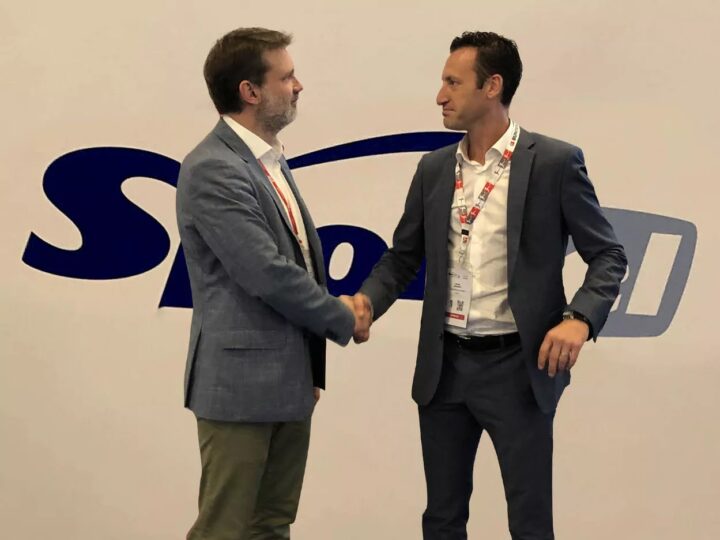 Broadcast Academy and EVS have reaffirmed their long-standing partnership during Sportel 2019 in Monaco. Luc-Antoine Charial, Chief Operating Officer, HBS, shook hands with Nicolas Bourdon, SVP Marketing, EVS, to foster this collaborative relationship.
Both parties took the opportunity to celebrate the success of Broadcast Academy's Live Sports Direction training programme, organised across various continents. The reaffirmation underlines the core objectives to jointly strive ahead in conducting many more meaningful training activities that leave a broadcast legacy, impact young professionals and create a gender-equal and diverse workspace.
"We are very happy to reiterate our continued commitment and together we aspire to find new talent and develop their skills. EVS has been our long-term partner in our endeavours and we are excited to move forward on the same path," Luc-Antoine remarked.
EVS is a dedicated partner of the Broadcast Academy and the two parties have jointly developed the widely popular Live TV Simulator, based on XT server technology combined with the Dyvi video switcher for the live sports production-training programmes. As well as the XT-3 simulator, historically used for the BA's courses, a new X-One simulator has recently been launched for lean production operations, helping participants get acclimated to the software-based technologies that are set to dominate the future.
Nicolas Bourdon said: "We are extremely proud to consolidate our partnership with the Broadcast Academy. It is the first itinerant structure that offers the most effective live sports broadcasting training programmes on the market, targeting all types of organisations and levels of production."
From modest beginnings, the live sports direction programme has become hugely popular amongst the broadcast professionals community. This unique programme offers participants real-world sporting events in a non-live training environment. The mentorship of experienced trainers and the EVS live TV simulators helps to develop the expertise and creativity of the participants.
To register for upcoming Broadcast Academy training activities please follow the link below: