 'CARIBBEAN SISTERS' BUILDING REGIONAL SUPPORT NETWORK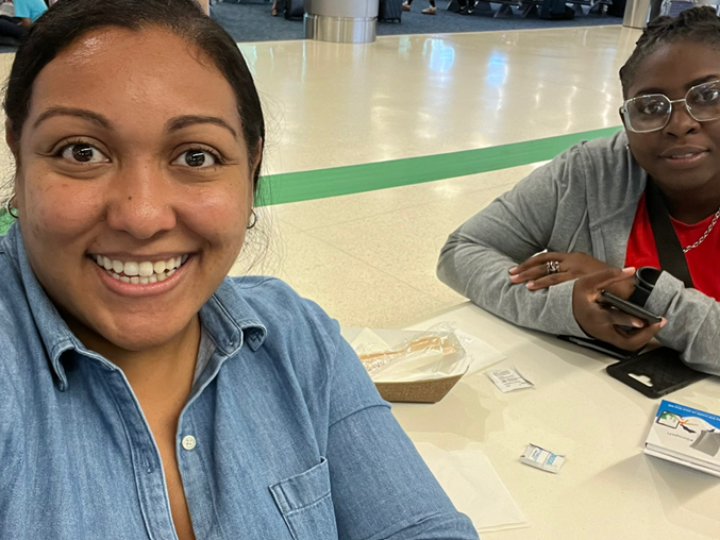 For Laura McDonald, a sports director hailing from Jamaica, the advantage of professional training can be seen just by looking at her own career path and the connections she has made from such experiences.
Having taken part in three Concacaf courses designed to upskill broadcast professionals in the North American and Caribbean region, Laura has grown her own personal experience and also started to build a support network through contacts made during these sessions.
It is this factor which has really made a difference since the industry came back to life after the COVID-19 pandemic put everyone on pause. "On the last Concacaf course I attended, Replay Operations in January 2022, I met some other professionals from Barbados," Laura explains. "One of those was a woman, and we really hit it off, we have kept in contact after the course"
This other professional was Ashley Moore, one of only two female replay operators working in the Caribbean region. "Seeing another female face for the first time as an operator and director was a bonus for me," explains Ashley of the meeting at EVS' New Jersey facility. "There are very few women who enter technical fields in sports broadcasting. It is a very male dominated profession and there is sometimes a feeling that we, as women, can't do it."
Ashley is grateful that Concacaf contacted her about the Replay Operations training session. "Training opportunities in Barbados are few and far between, plus those that we have are expensive and mostly out of reach for those wishing to further hone their skills," Ashley reveals. "Before this training, I had never received formal training in the role. I attended the course to further my knowledge and to learn how people outside my immediate reach approach being a replay operator."
The Concacaf training events, held as hands-on 'live-like' situations, allow attendees learn the fundamentals without the pressure of the real-world environment. "It helped us to boost our confidence levels," Ashley says. "We did the sessions without being judged."
Confidence is key, as Laura continues. "Sometimes as a director, you need the games under your belt to build your confidence. By getting more games you become more comfortable and by being more comfortable you become more confident. It might not always be a big 24-camera game, but, in fact it is harder to tell a good story using less cameras. The Concacaf courses give us the fundamentals for any situation. I'm really excited about that. I can see I am growing."
With COVID-19 hitting many major sporting events over the last two years, opportunities to grow have been somewhat reduced, but for both Laura and Ashley the chance to pick up where they left off is being taken with relish. "I didn't really get back on the road and in full swing until the Concacaf Gold Cup in 2021," Laura remembers. "That was really exciting to get back out. Now in 2022 I have been directing Concacaf Nations League and W Championship qualifiers."
Ashley has also got back to business. "I have been involved with Concacaf Nation's League and Women's Championship qualifiers, as well as track and field events and the World Surf League event in Barbados." Having never intended to get into sports broadcasting, that roster of events comes as a bit of a surprise to Ashley. "I got into the media industry in 2011, at that time my sole attention was on the film world. I never thought of broadcast as an avenue. Eventually I got drawn in when I worked on a project to help local footballers get the marketing we felt they deserved."
The pair both thank Concacaf for the courses, but mostly for bringing them and their colleagues across the Caribbean region together. "It's really phenomenal, I get to grow, I get to learn and, most importantly, I get to have fun. Without the courses I'd probably have never met Ashley, or other people doing similar things in the Caribbean. Concacaf allowed us to get closer to our neighbours, so to speak," Laura explains.
"She is my Caribbean sister," Ashley adds. "We are still in contact, we share feedback to improve ourselves. We're very grateful to the Concacaf course. It's a great opportunity for networking, sharing experiences and receiving tips and advice."
The sharing experience allows knowledge to filter down from participants to their colleagues when they return home. "I know I've been able to train other replay operators, both men and women, the correct approach to do things and to pass on the philosophy of being a replay operator," Laura states. "I've been bringing through more women, training them as venue producers here in Jamaica and having them work on some of the Concacaf Nations League matches so they too can also build their confidence."
As role models for their peers on their individual islands, Laura and Ashley have become good friends and keep each other motivated. "Even though I'm in Jamaica and Ashley is in Barbados, I took her on like my little sister," Laura smiles. "If she is going off to a game, I check in on her, I'll ask 'How was the game, give me your feedback, how can you improve?'. We message each other to say: 'You got this!'. The thing is, Ashley is really talented and it is really good to just keep everyone connected. The more we learn, the more we can keep uplifting each other."