 BROADCAST ACADEMY'S PROJECT ACCESS INITIATIVE EXPANDS INTO A MENTORSHIP PROGRAMME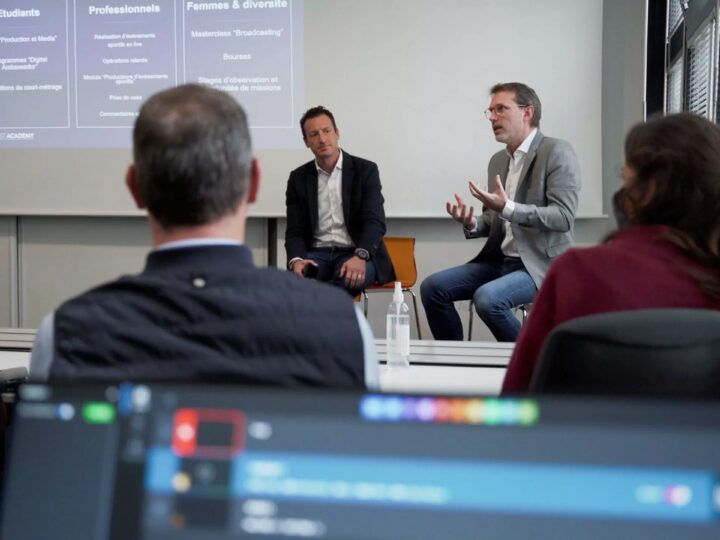 'Project Access', the HBS and Broadcast Academy (BA) initiative to improve the potential of women in broadcasting, has been extended to include mentoring programmes for women in the industry. The announcement was made by Luc Antoine Charial, Chief Operating Officer, HBS, at a Broadcast Academy event at EVS offices in Boulogne-Billancourt, France, attended by representatives from sports federations and broadcasters.
The scheme will build on the recent success of the BA, in partnership with EVS to encourage women to take more senior positions within the sports industry. This has seen courses being run by the BA across the world to train individuals for their further growth – particularly in sports TV direction, where women have traditionally been under-represented. Partly as a result, women have now directed major sporting events in multiple countries for the first time, having graduated from BA courses.
The BA have recruited some of the industry's leading names to be available to assist nominated women as they look to both gain relevant feedback on their current work and take advice on their future career path. These include the French Football Federation (FFF)'s Julie-Anne Gross, Radio Télévision Belge Francophone (RTBF)'s CIO Cécile Gonfroid and top international sports directors such as John Watts, Laurent Lachand and Sebastien Von Freyberg.
Now the BA is looking for more organisations and individuals to sign up to support the initiative. "We have made an excellent start as we begin our mentoring programme, but we need more individuals and companies to come forward and help make a difference to the industry. Our aim is to have each organisation open the door for talented women to succeed and thrive in their roles," said Luc Antoine.
"As a leader in live sports broadcast and media technology, EVS is committed to promoting gender equality and diversity in the industry and we're always proud to support the engagements of the Broadcast Academy in this field," added EVS CMO Nicolas Bourdon. "This new mentorship programme offers a new opportunity for women to develop their skills and accelerate their career thanks to the support of the best TV production talents and technology in the world."
Existing partners of Project Access include some of sports broadcasting's biggest companies – IMG, EFL, Concacaf and the French Tennis Federation (FFT). They have provided hands-on experience to help support the work of the trainers and give opportunities to new and existing talent. The project is also supported by the National Film and Television School (NFTS) in the UK, the Sports Video Group (SVG) Europe and International Broadcasting Convention (IBC).
Now the BA hopes to provide ongoing support to women through mentoring as well as their purpose designed training courses. "We want to pair up talented individuals with mentors who can help them succeed in their daily job as well as grow their own potential," explained Luc Antoine.
For more information about Project Access and the mentorship programme please visit: https://www.broadcastacademy.net/mentorship-programme/
About Broadcast Academy
The Broadcast Academy was established by HBS with the purpose to create a broadcasting legacy, share its knowledge and improve sports broadcasting standards at an international level.
The Broadcast Academy has been delivering its programmes in more than 20 countries around the world. It has trained more than 10,000 TV professionals from various fields since its inception.
The Academy is unique in its approach, relying on professionals and broadcast experts to help other professionals develop and improve their broadcasting skills. The training is customised to suit its audience with focus on skills that are relevant to the task, role and the industry.
About HBS
Founded in 1999, Host Broadcast Services (HBS) was originally established with the core mandate of being the Host Broadcaster (HB) for the 2002 FIFA World Cup Korea/Japan™; the organisation has since developed as a renowned host broadcast expert.
HBS offers expertise and experience in project managing the delivery of the most prestigious sports events around the world. The company has always pushed to reduce the broadcasting footprint, allowing organisers and broadcasters to optimise both venue resources and media rights with flawless reliability.
HBS is based in Switzerland and has its planning headquarters in France (Paris/Boulogne).
About EVS
Globally recognised as the leader in live video technology for broadcast and new media productions, our passion and purpose are to help our customers craft compelling stories that trigger the highest return on emotion. Our comprehensive range of solutions enables media companies and content creators to deliver the most gripping live sports images, buzzing entertainment shows and breaking news content to billions of viewers every day – and in real-time.
EVS is a partner of Broadcast Academy in developing talent around the world.